Materials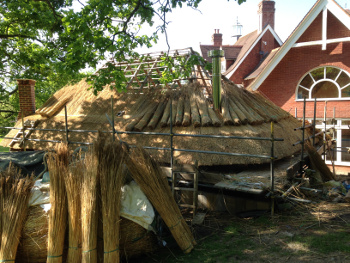 Reed and straw thatch has been the natural choice of roofing material for centuries due to its historical abundance, sustainable nature and natural thermal properties. Water reed has no propensity to become waterlogged thanks to its hollow nature and tight cell growth, and with most thatched roofs up to 12 inches thick it provides an effective layer against the elements.
Water reed is traditionally grown in reed beds, rivers and lakes but due to the modernising of machinery and farming techniques across the country, the majority of reed used for thatching in the UK is now imported from across the world.
As thatching materials have evolved, there has also been a move towards using steel rods and wires within the deeper layers, improving the strength of the connections. Along the ridge we continue to use traditional hazel spars, ensuring the beauty and security of your thatched roof will remain for years to come.

The Modern Thatch Tile
Whilst the very nature of a Lapa demands the elegance and structure of a traditional thatch, we use modern thatched tiles to create our thatched gazebos and garden shelter kits.
These tiles are constructed using Cape Reed and are bound tightly into sections that are then clipped onto a steel supporting ring that forms part of the building's core structure. These tiles are ideal for residential and commercial use and are easy to install and replace over time.
Some commercial projects use an artificial thatch product, Endureed Synthetic Thatch which is well suited to commercial environments due to its mould and rot resistant properties, as well as its fire retardant nature.
The Lapa Company are proud to offer all of these thatching types and styles to our customers.