Handcrafted at our Kent Workshop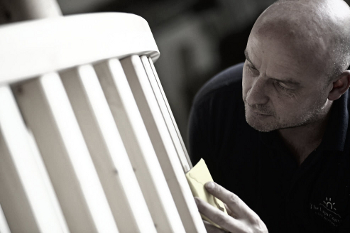 At The Lapa Company we pride ourselves on the craftsmanship that goes into our garden buildings. Our skilled carpenters and joiners handcraft each of our Premium and Contemporary wooden gazebos, thatched Lapas and bespoke outdoor garden buildings, right here in our Kent workshop.
Working with natural redwood and natural hardwood poles, they individually create each balustrade, upright and ring beam ensuring every structure has the high quality finish that guarantees it will take pride of place in any setting.
In addition to having the care and attention of a carpenter working on our standard structures, we can easily tailor a design to your requirements. Whether you require additional access points, bespoke shapes or integrated features, our years of experience and expertise mean we can accommodate these with ease.
Furnishings and Finishes
Our handcrafted benches and tables can be made to fit into the smallest or largest garden gazebo and additional designs are available to compliment our outdoor classroom structures and Lapas. Our range of handcrafted furniture is made by request to suit your needs and can be ordered at the same time as your garden building or at any future date.
Alongside our range of handcrafted furniture we provide a selection of high quality, UV resistant canvas panels and cushions. This is the most colour-stable cloth available with the highest UV resistance. Each canvas item includes a 5 year manufacturer's warranty and the canvas is available in over 30 colours. Our canvas panels are also secured in place using marine grade turnbuckles ensuring the canvas does not move around when in an unrolled position. PVC windows can also be added to our full length panels.