Thatched Umbrellas & Shelters
The Lapa Company is able to offer a wide range of thatch tile structures that come in kit form and are perfect for self assembly. If you like the idea of a thatched feature but don't want the expense of a genuine thatched roof or gazebo then these structures are perfect. Our range includes both circular and oval structures and utilise easy to install thatch tiles. Full instructions and all fixings are provided.

These kits are perfect if you want to install your own thatched shelter. We supply our kits in three formats.

Option 1 - The first is the option to purchase the roof only. This kit includes 4 sections of roof framework plus all the thatch tiles required to complete the project. If you have your own uprights this is the perfect solution.

Option 2 - For a rustic finish we can supply our kits with the required number of rustic eucalyptus uprights. These poles are imported from Africa and give a superb authentic finish.

Option 3 - Finally we can offer a kit that includes premium machined timber uprights and a machined ring beam. This option gives you the flexibility of installing our range of drop down canvas side panels

NB. Unlike our thatched gazebos our shelter kits are not free standing. You will need to insert the uprights into footings.

The prices detailed below are for the supply of the kits only. If you would like us to install one of them for you then we would be happy to do so. Please call 01732 884030 for details.
Circular Shelter Kits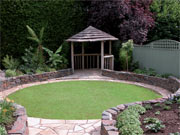 2.8m

Roof Only

£850.00

Shelter Kit
inc. Rustic Uprights

Shelter Kit
inc Machined Timber Uprights & Ring Beam

Canvas Roof Lining

Canvas Side Panels
NB. Canvas side panels can only be installed with Machined Timber uprights and ring beam
Installation service available if required.
All prices include VAT
Oval Shelter Kits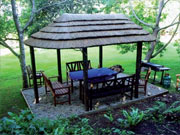 4.2m x
6.0m

Roof Only

Shelter Kit
inc. Rustic Uprights

Shelter Kit
inc Machined Timber Uprights, Ring Beam & Braces

Canvas Roof Lining

Canvas Side Panels
NB. Canvas side panels can only be installed with Machined Timber uprights and ring beam
Installation service available if required.
All prices include VAT
Thatched Umbrella Kits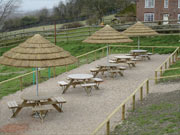 | | | | |
| --- | --- | --- | --- |
| | | | |
| Price | | | |
Installation service available if required.
All prices include VAT