We offer a range of styles and sizes of signage, fencing and other structural requirements. We can provide fully themed or plain signage frames, themed or standard fencing, enclosure poles and more. These complimentary ranges can be ordered as part of a larger project or as a separate order.
We recommend Natural Hardwood Poles as the best timber for commercial purposes. Grown in South Africa it is very strong with a density similar to oak. Its natural appearance is perfect for a variety of uses. Natural Hardwood Poles come in lengths of up to 6m and have a natural taper over their length. All poles are stripped of bark, Tanalith E treated and are far stronger than bamboo or machine round alternatives.

Signage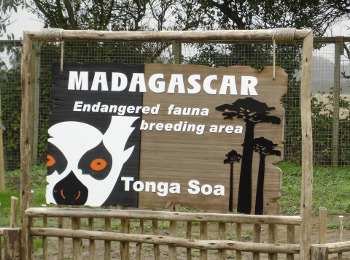 We understand that clear signage for entrances and information points is essential to the visitor experience.
Utilising our natural hardwood or machine round poles, we can incorporate your signs into bespoke framing constructed in our own workshop or supply you with the timber to create your own. Our timber is available in diameters as small as 25mm.
Fencing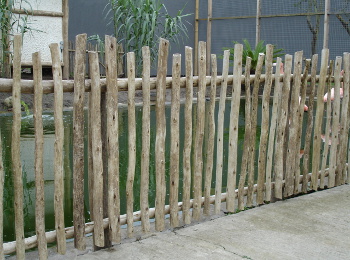 Fencing is an everyday requirement for many organisations, yet not every company wants a standard wooden fence within their outdoor environment.
Our Natural Hardwood Poles are ideal for those who would like an alternative to standard machined fencing. Strong, flexible and available in a range of diameters and lengths, we can offer the timber as a raw material or as fully installed fencing.
Timber Poles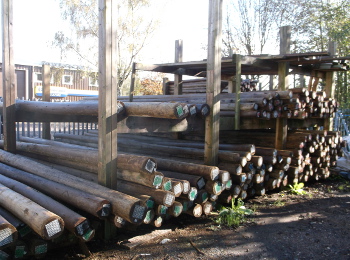 Our timber poles are available in lengths of up to 6m and diameters of up to 175mm. The Eucalyptus Grandis is an ideal wood for construction that requires a natural or themed appearance.
With a density similar to oak and already treated with Tanalith 'E', we can deliver direct to your site for a range of uses such as Enclosure Poles, Shade Sail columns, Pioneering Projects and Edging.
Natural Hardwood Poles Pricing
We recommend Natural Hardwood Poles as the best timber for the aboves uses, but if required we can also offer Machine Round Landscaping Poles and Play Area Poles via our supporting website www.totalpoles.co.uk
Natural Hardwood Poles
Length
(metres)
Price
(inc VAT)
25-32mm Dia
1.5 m
£4.99
25-32mm Dia
3.0 m
£5.99
25-32mm Dia
4.5 m
£6.99
50-75mm Dia
1.5 m
£12.99
50-75mm Dia
3.0 m
£22.99
75-100mm Dia
4.2 m
£52.99
75-100mm Dia
4.8 m
£59.99
75-100mm Dia
6.0 m
£74.00
100-125mm Dia
3.0 m
£49.00
100-125mm Dia
6.0 m
£89.00
125-150mm Dia
3.0 m
£59.00
125-150mm Dia
6.0 m
£115.00
150-175mm Dia
3.0 m
£79.00
150-175mm Dia
6.0 m
£149.00