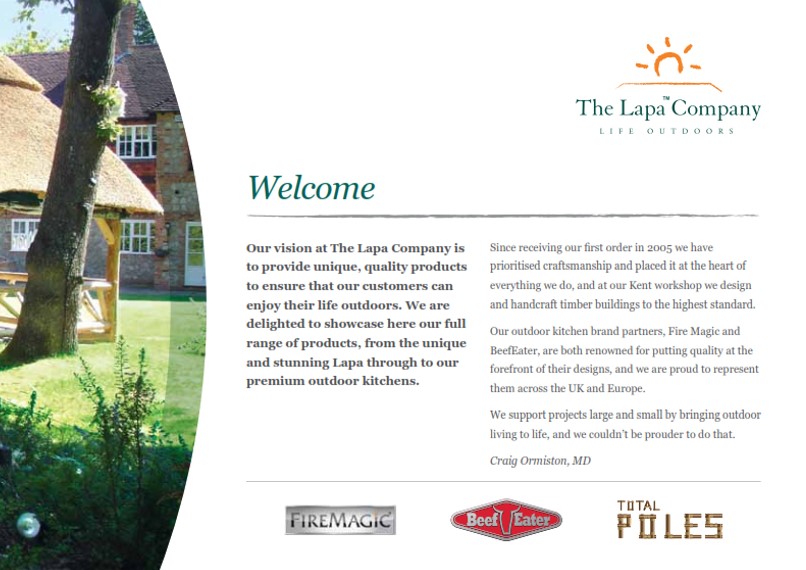 Outdoor kitchens have been embraced in the UK since the early 2000s. As market leaders in this field we are proud to offer you a range of premium outdoor kitchen brands that perfectly compliment the stunning range of outdoor buildings from The Lapa Company.
With a vast range of grilling, cooking and refrigeration equipment, all certified for outdoor use, it is possible to turn your outdoor space into a true extension of your internal entertaining areas. In addition to being great settings for a party, they are also a fantastic opportunity to engage with family and friends whilst you have fun discovering the range of options available to you – premium barbecues can be used not only for grilling the traditional burger and sausages, but full roasts, exquisite vegetarian meals as well as baking cakes, breads and desserts!
Modern outdoor kitchens can even include integrated preparation areas, bins, fridges and pizza ovens, so there's no reason your outdoor space shouldn't be as flexible as your indoor space.
Each of the links below will guide you to one of our ranges where you can explore all the options available to you including our free design service, ensuring the transition from garden space to outdoor living is as smooth as possible.
You can view our company brochure by clicking on the image above, which provides an overview of all of our brands, or follow the links below to find out more...